A new report from MIT Technology Review Insights and Databricks found the most proactive CIOs are decisively embracing generative AI as part of an enterprise-wide strategy, despite its risks.
"The Great Acceleration: CIO Perspectives on Generative AI," is based on in-depth interviews with senior executives and experts, finding that 78% of these respondents view scaling AI successfully as a top priority.
Key findings include how generative AI and large language models are democratizing access to artificial intelligence. "AI is finally moving from pilot projects and 'islands of excellence' to a generalized capability integrated into the fabric of organizational workflows," the report states. "Technology teams no longer have to 'sell' AI to business units; there is now significant 'demand pull' from the enterprise."
"We can now translate language into something that a machine can understand. I can't think of anything that's been more powerful since the desktop computer," said Michael Carbin, associate professor, MIT, and founding advisor, MosaicML.
Another finding shows that organizations are looking to leverage open source technology to build their own custom LLMs. CIOs recognize the risks third-party services represent for maintaining data security and privacy with their company data. The report asserts that the most successful organizations will strike the right strategic balance based on a careful calculation of risk, comparative advantage, and governance.
"There is a need to keep LLM models internal to our organization, to protect and secure our intellectual property – this is a critical need," said Andrew Blyton, VP & CIO, DuPont Water & Protection.
Data infrastructure is another consideration, as generative AI requires flexible, scalable, and compute-efficient systems. CIOs and technical leads are embracing different data infrastructures like data lakehouses that can democratize access to data and analytics, enhance security, and combine low-cost storage with high-performance querying, the report said.
Of those surveyed, 68% felt that a unified data platform for analytics and AI is crucial to their enterprise data strategy. Additionally, 72% favor a multi-cloud approach as a flexible foundation for AI/ML, and another 72% noted that data problems are the most likely factor in jeopardizing AI/ML goals.
Amid all the AI hype this year, some have been predicting mass layoffs due to the automation capabilities of generative AI.
Those interviewed for the report do not expect large-scale automation threats, but instead believe the broader workforce will be liberated from time-consuming work to focus on higher value areas like insight and strategy. Adobe's SVP & CIO, Cynthia Stoddard, noted in the report that her company internally views AI/ML as a helper that allows her employees to spend more time on other value-added activities.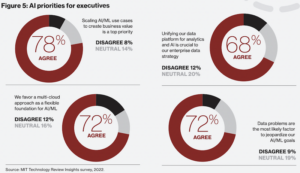 Finally, one more key insight presents the idea that CIOs must address the unique governance challenges of generative AI while investing in supporting technology, processes, and institutional structures.
Because generative AI brings commercial and societal risks like protecting commercially sensitive IP, copyright infringement, unreliable or unexplainable results, and toxic content, CIOs must establish and bolster unified and consistent governance frameworks, the report states.
Laurel Ruma, global director of custom content for MIT Technology Review says establishing these frameworks can help organizations navigate the potential risks and maximize the benefits of generative AI adoption.
"CIOs play a pivotal role in ensuring ethical and responsible AI practices, striking the right balance between innovation and compliance. With the democratization of AI and the integration of generative models into organizational workflows, we are witnessing the transformative power of AI on a truly enterprise-wide scale," Ruma said.
Related Items:
What Is MosaicML, and Why Is Databricks Buying It For $1.3B?
MIT and Databricks Report Finds Data Management Key to Scaling AI
Data Management Implications for Generative AI
The post Proactive CIOs Embrace Generative AI Despite Risks: MIT and Databricks Report appeared first on Datanami.
Go to Source

Author: Jaime Hampton